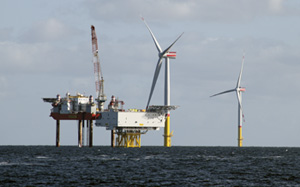 Düsseldorf, March 9th, 2020
Negotiations have been going on for a long time, now it is certain: The RODOPI Group has been awarded the contract for extensive work on two further offshore wind farm projects. Our almost 80 strong offshore teams will soon be working on both offshore projects in the North Sea in a 14-day rotation.
The demanding tasks of the RODOPI teams include comprehensive corrosion protection work on offshore steel structures as well as service and repair work on the rotor blades of the offshore wind turbines.
Shareholder and managing director of RODOPI Blades GmbH, Ercan Kara Osman, said after the new contracts were signed:
"We are looking forward to this challenge, where we can fully contribute our expertise and experience in the areas of corrosion protection as well as service and repair work on rotor blades. From our current staff of about 800 people, we provide our customers with experienced and tough employees with the necessary know-how for the rough conditions in the North Sea."
And further:
"Speed, efficiency and fairness are key objectives of our company, but we never lose sight of our claim: to exceed existing quality standards and to set new ones in the industry."
Contact:
RODOPI Blades GmbH
Grunerstraße 133
40239 Düsseldorf
Phone: +49 (0)211/90 99 72 99
Fax: +49 (0)211/90 99 72 98
Email: blades@rodopi.de
Internet: www.rodopi-blades.de