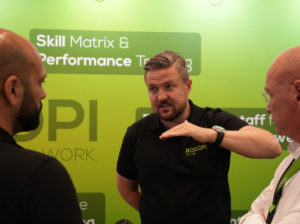 Hamburg, 10/12/2022
Successful debut at WindEnergy 2022: RODOPI presented its service solutions for the first time at WindEnergy Hamburg, the global trade fair for onshore, offshore and hydrogen, from 27 – 30 September 2022. With around 30,000 visitors from 92 countries, the world's leading trade fair impressively demonstrated its importance for the internationally accelerated expansion of renewable energies.
More than 1,400 international exhibitors showed everything that the onshore and offshore wind industry has to offer in terms of innovations and solutions in Hamburg. The trade fair ended with an optimistic mood of optimism that runs through the entire wind energy sector. During the four days of the fair RODOPI had very good conversations with all well-known manufacturers and many interested visitors.
A video of our trade fair presence can be found on our YouTube channel.
Contact:
Rodopi Wind Service GmbH & Co. KG
Wahlerstr. 4
40472 Dusseldorf
Phone: +49 (0)211-90 99 72 80
Fax: +49 (0)211-90 99 72 81
Email: info@rodopi.de
Internet: www.rodopi-windservice.de
Image source: RODOPI Wind Service & Co. KG