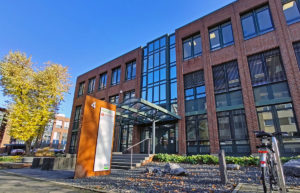 Düsseldorf in November 2020
RODOPI continues to expand: The companies of the RODOPI Group have moved into new offices in Wahlerpark in Düsseldorf-Rath. On a total of over 1200 m², employees in the RODOPI headquarters are offered spacious and modern workplaces on two floors with plenty of space for new ideas.
The significant increase in space with the option to expand the office space, the improved infrastructure and a 600 m² warehouse for materials and vehicles that can be reached directly via the offices were the main reasons for the move. In addition, an inner courtyard with sufficient space provides relaxation and fresh air during the small work breaks.
Best connection thanks to central location
The new RODOPI headquarters is only seven kilometers from the city center, and Düsseldorf Airport is within ten minutes and the D-Rath motorway junction on the A52 can be reached in five minutes. In addition, the connection to local public transport is guaranteed via several bus stops as well as S-Bahn and U-Bahn lines.
"Our new premises enable us to continue growing and offer our employees a pleasant working environment. It was imperative to get more space for employees: At this point we were already reaching the limits of spatial capacity at our old location on Grunerstraße."
says Achmet Gkaroglou, Managing Director of RODOPI Personal GmbH in Düsseldorf. And further:
"The ideal transport connections and the proximity to numerous green areas in the immediate vicinity are further advantages that the new location brings with it. Customers and employees will feel equally at home here."
Contact:
RODOPI Personal GmbH
Wahlerstr. 4
40472 Düsseldorf
Tel.: +49 (0)211-909 972-27
Fax: +49 (0)211-909 972-28
Email: personal@rodopi.de
Internet: www.rodopi.de