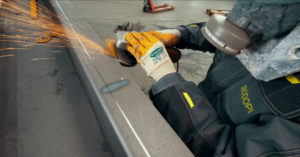 Rostock, 05.03.2020
RODOPI Hanseatic was confirmed by MV WERFTEN as a service partner in the construction of another cruise ship of the Global Class. Following the successful work on the "Global 1", RODOPI Hanseatic has also been looked after on the sister ship with all conservation tasks from the start of construction to the final delivery of the cruise giant.
Our team on site in Rostock will be involved in the production of "Global 2" with construction number 126 and perform the conservation tasks on the 220-meter middle ship. We will then accompany the ship into the dry dock in Wismar, where the bow, stern and the last upper superstructures will be assembled.
New standards in passenger shipbuilding
The cruise ships of the Global Class are true record hunters: the 342-metre-long and 46-metre-wide ocean liners are the largest ships built in Germany in terms of passenger numbers. The capacity of up to 9500 passengers and 2500 crew members with a total weight of 204,000 GRT (gross register tons) mark a new record in passenger ship construction.
Hans-Joachim Schröder-Zweigardt, Managing Director of RODOPI Hanseatic GmbH, is pleased that RODOPI was convincing and able to assert itself against competitors:
"For RODOPI, the continuation of the cooperation is a confirmation of our services and our close integration at the shipyard. We are proud on the fact that we may stand the MV WERFTEN also further as service partners to the side. I would also like to take this opportunity to thank the entire RODOPI team at all three shipyard locations involved in the construction. You have done a great job!"
Contact:
RODOPI Hanseatic GmbH
Grunerstraße 133
D-40239 Düsseldorf
Phone: +49 (0)211 / 98 74 01 30
Fax: +49 (0)211 / 90 99 72 73
E-Mail: info@rodopi.de
Internet: https://www.rodopi-hanseatic.de/