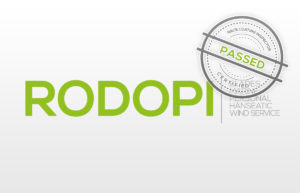 Düsseldorf in March 2021
Five other RODOPI employees have been successfully tested according to the standard of the Coating Inspector Program and have received their NACE CIP Level 2 certificate.
The coating inspectors are able, among other things, to carry out non-destructive analyzes of the condition of coatings and to document the results in detail. The young managers are deployed in the RODOPI Group in the positions of Team Leader and Site Manager.
RODOPI Personal Director Selman Hatzi on the successful certifications:
"We are very proud of our newly certified employees Veisel Imam, Okan Sechrin, Volkan Sechrin, Niazi Sechrin and Ismet Ivrahim Basi. The diverse development opportunities and individual career paths that are possible at RODOPI also confirm the different professional backgrounds of the newly certified employees: Both rookies and masters with many years of professional experience and trained engineers were able to take this important career step together at RODOPI"
And further:
"Our mission statement includes our self-image of always being at the forefront when it comes to quality. Successful and regulatory quality assurance is one of the most important pillars in order to meet this self-image. For more than 30 years, the certifications of the NACE Institute have defined the global standard for coating inspectors, which are recognized by organizations around the world. This industry-wide acceptance also makes a lasting contribution to increasing trust in our services."
Contact:
RODOPI Personal GmbH
Wahlerstraße 4
40472 Düsseldorf
Tel.: +49 (0)211-909972-27
Fax: +49 (0)211-909972-28
eMail: personal@rodopi.de
Internet: https://www.rodopi.de/
Additional Files: