Düsseldorf in January 2022
Since October 2020, the RODOPI group of companies has been operating a GWO-certified training center in Xanthi, Greece. In the city in Western Thrace, south of the main Rhodope ridge, we offer numerous safety training courses for employees in the wind industry – but the training is also suitable for employees from other branches or industrial sectors, such as transport, crafts or construction. The courses offered are designed to help workers work safely and build a sustainable safety culture.
"We want to create a working environment in which injuries are no longer an issue by offering practical training. In addition, further training can increase the efficiency of work on wind turbines and also open up new career opportunities for participants. Many skilled workers in the industry are not from Germany and through training they gain skills that meet German standards"
says Ercan Kara Osman, Managing Director of Rodopi Blades GmbH. Through partnerships with experienced companies, the group of companies can offer practical training courses in which participants obtain internationally recognized certificates.
From "Working at height" to "First Aid"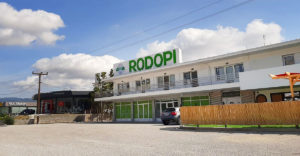 The training program includes, for example, the two-day BST Module 4 "Working at height" and a one-day refresher course on the same subject. Among other things, the participants learn the correct use of personal protective equipment against falls, measures for self-protection, safe ascent and descent at a wind turbine and rescue measures with an evacuation device according to the GWO standard.
"Thanks to a test facility belonging to the training center, we can also carry out practical exercises such as abseiling from the machine house, rescuing people inside or rescuing a person on the ladder",
reports Kara Osman and adds:
"But these courses also include other content, such as instruction in the various rescue harnesses and devices, or theoretical focal points such as legislation and suspension trauma."
The course program also includes training in fire safety awareness, the correct lifting and carrying of loads and the provision of first aid. The employees of the wind industry also learn to assess and master emergency situations at dizzy heights and to protect themselves and colleagues in the best possible way.
"In addition, we also offer video courses, so that training participants can access our learning content anytime, anywhere," concludes Kara Osman.
Contact:
RODOPI Blades GmbH
Wahlerstr. 4
40472 Dusseldorf
Phone: +49 (0)211-90997272
Fax: +49 (0)211-90997273
Email: blades@rodopi.de
Internet: www.rodopi-academy.com
Image source: RODOPI Blades GmbH