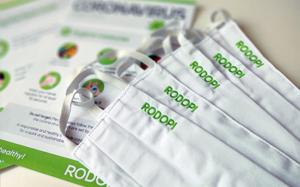 Xanthi, May 25th, 2020
In the fight against the coronavirus, RODOPI donated a total of 40.000 protective masks. The masks have been distributed around the Thrace region in recent months to help citizens fight the corona virus.
Multilingual information sheets, which were distributed with the masks, explain in detail the use of the protective masks and give further tips on reducing the spread of the virus and how you can protect yourself against infection in the future.
Protect yourself and others
According to experts, even a simple, tight-fitting mouthguard made of fabric can ensure that fewer droplets of saliva are released into the environment when speaking, coughing or sneezing. With this so-called droplet infection, pathogens such as viruses in the respiratory tract get into the air and are inhaled by other people.
RODOPI managing director Achmet Gkaroglou:
"Wearing a protective mask optimally complements the measures for distancing and minimizing contact. However, it is still important not to forget the other protective measures such as regular hand washing or disinfecting and the coughing and sneezing in the crook of the arm. "
And further:
"Another 10.000 masks were made available to our employees on the construction sites and to our employees in the offices. The masks are distributed by teams from RODOPI at the location in Xanthi/Greece. The donation is one of the initiatives of the RODOPI campaign "Stay healthy!" to curb 2019-nCoV."
Contact:
RODOPI Personal GmbH
Grunerstrasse 133
40239 Düsseldorf
Tel .: +49 (0) 211-90997227
Fax: +49 (0) 211-90997228
Email: personal@rodopi.de
Internet: https://www.rodopi.de/