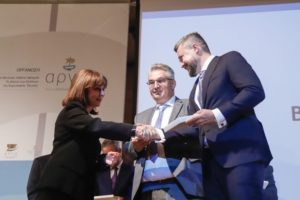 Athens, 10/15/2022
At this year's ARGO Awards in Athens, the two RODOPI founders and managing directors Achmet Gkaroglou and Ercan Kara Osman were awarded the entrepreneurial prize. The event, held under the auspices of President Katerina Sakellaropoulou, took place on Wednesday evening, October 12, 2022 at the Benaki Museum in Athens.
The event was opened by ARGO Network President Spyros Pappas, who highlighted the importance of the laureates' achievements for the value system of Greek culture. The Chair of the ARGO Prize Committee, Professor Emeritus Vassilios Skouris, stressed that Greeks in diaspora are doing outstanding work in most aspects of social life.
Eight Greeks living abroad received awards this year in the areas of "Sport", "Humanitarian Contribution", "Gastronomy", "Science", "Entrepreneurship", "Innovation", "Culture and Art" and "Contribution to the Common Good".
The ARGO Awards are an initiative of the International ARGO Association and are now being presented for the fourth year in a row. They aim to reward creativity and open-mindedness and raise awareness in Greece of their children's success abroad.
The complete clip from the ARGO-Award ceremony including the acceptance speeches is on our YouTube channel.
Media echo:
Rheinische Post: "Award for a Düsseldorfer: Almost like an Oscar ceremony"
CNN Greece: "ARGO Awards Presented to Outstanding Greeks in Diaspora"
Alpha TV: "ARGO" Awards to Greeks in Diaspora
Xanthinea.gr: "The success story of two Greeks from Xanthi in Germany"
Contact:
RODOPI Personal GmbH
Wahlerstr. 4
40472 Düsseldorf
Tel.: +49 (0)211-90 99 72 80
Fax: +49 (0)211-90 99 72 81
Email: info@rodopi.de
Internet: www.rodopi.de
Image Source: ARGO Awards