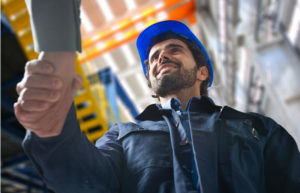 Düsseldorf, 24.05.2019
Two further RODOPI employees receive the FROSIO certificate for coating inspectors. This means that the RODOPI companies now have a dozen certified inspectors.
FROSIO, the Norwegian Council for the Training and Certification of Surface Inspectors, has been a recognised certification body in the industry for over 30 years. During their FROSIO qualification, participants gain in-depth knowledge of materials, design technology, specifications and standards, corrosion science, surface preparation as well as health and environmental protection.
A FROSIO inspector ensures that the surface treatment complies with the specifications, which contributes to making projects economical, sustainable and safe.
Managing Director Ercan Kara Osman:
"The high density of FROSIO inspectors at RODOPI underlines the special importance that quality enjoys in our company. With Serkan Bekir and Joseph Kück, two further long-standing RODOPI employees have received the FROSIO certificate for coating inspectors (Level III), which further strengthens the confidence of our customers in our company and increases our performance."
Contact:
RODOPI Personal GmbH
Grunerstrasse 133
40239 Düsseldorf
Phone: +49 (0)211-90997227
Fax: +49 (0)211-90997228
E-mail: personal@rodopi.de
Internet: http://www.rodopi.de/